Help Center
Buying on Ebon Agora
How Do I Buy an Item on Ebon Agora?
When you're buying an item on Ebon Agora, you're buying that item from an individual Seller who has listed their item for sale on our site. While Ebon Agora works diligently to review the integrity and quality of the listings on our platform, Ebon Agora is not the Seller of the item.
It's essential to ask good questions and review all the details of the item, in terms of shipping and condition of the gear before making your purchase. Feel free to ask for more photos.
Once you're ready to buy an item, without "making an offer" just click the "Add to Cart" button to get started! This will direct you to the checkout page, where you can Request a shipping quote or, if shipping is Flat Rate or included, complete your payment method. Ebon Agora.com accepts all major credit cards, ACH and more.
**Ebon Agora does not accept checks or payments over the phone**
Why was I charged tax on my order?
Marketplace facilitator taxes came into effective in many states throughout the United States in 2019. As of September 2020, Ebon Agora is required by law to calculate, collect and remit sales taxes on behalf of our sellers, on orders that are shipping into any states where the Marketplace Facilitator legislation is enacted and where Ebon Agora meets the thresholds required.
If you qualify for tax exemption in your state, please forward your tax exemption certificate to gooseandbull79@gmail.com
 Before placing your order. Please note: the certificate name and address must match the name and address on your account on Ebon Agora.com.
How Long Do I Have to Pay For My Purchase?
Once your order is placed in the shopping cart or your offer is accepted, and the shipping quote has been provided, payment is required within 72 hours. Once an order is placed on the item, the Seller is no longer able to sell it to someone else, therefore, it's important to complete your payment quickly. Orders that are not paid within 72 hours may be cancelled.
As soon as payment has been made, the Seller is required to supply a tracking number to the order within 5 business days, at which point you'll receive an email notification with a link to track your package.
Does Ebon Agora Offer Free Shipping?
Ebon Agora is a marketplace of independent sellers, therefore, shipping rates and shipping options vary by seller. That being said, many sellers on the site do offer Free Shipping on certain items to certain zones.
How to find listings with Free Shipping:
Head to ebonagora.com/store/ and click Search products in the lot left hand corner
Type an item you wish to purchase in the search bar and press enter
On the left-hand side under Browse by Categories, click on Free Shipping
The search results will be filtered to show applicable listings
Can I Pick Up My Order Locally?
Ebon Agora does not recommend this option but we also understand in certain circumstance, you may need to pick up your from a seller. If shipping your product is not an option or picking up your order is preferred, you can message the seller about this option by clicking the "Message Seller" button on the item listing.
After you and the seller have agreed on the local pickup and you've picked up the item from them, you can then mark your item as received on your Purchases Page by clicking on the "Mark as Received" button underneath the item. This way, we can confirm that your order was completed and everything has been taken care of for you.
*Please note – Orders paid using financing will not be eligible for local pickup, as it voids the buyer protection*
Am I Protected if I Do Not Receive an Item or the Item I Receive is Not as Described?
If an item arrives inoperable or not as described (but not related to freight damage), you just need to contact the seller and Ebon Agora within 48 hours of delivery, with documentation of the issue. We always recommend contacting the seller first, as the majority of issues are resolved quickly between buyer and seller.
If a purchase arrives in unexpected condition or not as described, please review and follow the steps in the Ebon Agora Return Policy…
Gather documentation (e.g. photos, video) of any issues once they are encountered and message the seller on Ebon Agora with that information
If the item is not working, do not attempt to make any modifications or repairs unless you are prepared to keep the item as is
Request a refund by going to your Order Dashboard, finding the specific order and clicking on Request Refund
Allow the seller 24-hours to respond to this request
Once approved, ship the item back to the seller (unless a partial refund or other arrangements were discussed)
Once the item is back in the seller's possession, your refund should be initiated in 48 hours
If your order arrives damaged in shipping:
Prior to signing for the package, take pictures or video of the packaging from all angles
Document the damage on the Delivery paperwork, before you sign for it, and retain a copy of the paperwork.
Hold on to any packaging materials and the box it arrived in
In the case of internal damage to the equipment/packaging, once again, take pictures and videos showing the visible damage to the item and its surrounding packaging.
Do not under any circumstances attempt to do any modifications or repairs to the item
Submit this information to the Seller and Ebon Agora using the Request Refund link on the specific order in your Order Dashboard
In the case of any damage or loss during shipment, it is your responsibility to notify the Seller and Ebon Agora

Customer Service

 within 48 hours. If this is not done in time, you may be responsible for the damages.
If the damage was caused by the freight carrier, the claim must be made directly with the carrier and may take a bit longer to resolve such claims. All shipments are also protected by freight insurance.
Once an agreement is reached and approved, you will be required to ship the item back to the seller "before" repairs or refunds are completed. If the return is due to operational issues, the Sellers will provide a return shipping label.
If the seller remains unresponsive to your messages and refund requests after 48 hours, you can open up a support ticket with our

Conflict Resolution team 

to step in and assist!
Anything outside of that 48 hour window, or a situation that is not damaged/not as described, we would then honor the seller's individual policies.
Did you purchase an item and it didn't ship out?
Ebon Agora allows the seller 5 business days to get items shipped out and provide tracking numbers. If it is past the 5 business days, we would recommend contacting the seller for a status update. In the event the seller remains unresponsive, you can contact our Conflict Resolution team to assist.
Selling on Ebon Agora
How do I become a Seller
It's easy to start selling on ebonagora.com… simply click the Account link, select "I am a vendor" in the top Navigation bar, fill out the required details and you are ready to get started. Additional set-up will be required in your Seller Dashboard, and you'll be prompted for that later in case you forget.
How Does the Listing Process Work? 
Always try to include all relevant information and accurate details concerning age and condition. This will reduce or eliminate unnecessary returns.
Take and provide excellent, clear and telling photos. Images will help answer questions a buyer may have, and will make the transaction smoother.
Find the right price:

Look around the site – what are others listed at?
What was / is "Dealer Cost" on this item? You should be asking at least 20% below "dealer" in most cases, sometimes much less.

Decide on "Zones" in which you wish to sell, and the shipping methods you want to utilize:

Request Quote – (this is the only option currently available, others will become available soon) simply provides a button to the buyer on the checkout page to click, submitting that request to you, for a shipping quote. Obviously, you will want to respond quickly!
Free Shipping – you include shipping costs into a particular zone or zones you've selected. This will enable item(s) to be sold, without any delay for shipping quotes.
Flat Rate Shipping – in each zone, you can assign a flat rate for that item in that zone. Again, this allows immediate payment and completion of the order, without quotes.
Automate Freight Quoting – this will not be available at launch, but shortly thereafter. Using your weight and dim's provided, the system will calculate shipping costs within the shopping cart itself. This will allow the order to be completed immediately as well, but takes some control from you.

Submit your listing(s) for approval. As soon as approved, the listing(s) will be displayed and ready for purchase!
Does Ebon Agora Charge Seller Fees for a Successful Transaction? 
Yes, our Standard Seller Fee is 10% of the order transaction total, on GMS (gross merchandise sales) volume up to $250,000 annually, and below a minimum level of frequency, currently 4 orders per year. For GMS above $250,000 and more than 4 orders per year, our seller fees will be reduced to 7%.
Concierge Seller Fees are 12%. This is a seller who requires Ebon Agora support team to manage more of the transaction, including assisting with freight quoting and logistics.
Payment Processing Fee: ALL transactions and sellers will be subject to a 3% payment processing fee on the transaction total. This covers credit card processing, transfer fees, address verification, fraud protection and more. All transactions settle in US dollars – international or cross-border transactions are subject to a 2% currency conversion fee. See Ebon Agora Payments for more detail.
How DO I get paid?
First, register your account with Ebon Agora Payments. This allows you to safely accept the most popular payment methods with funds direct-deposited into your account, as soon as delivery has been confirmed. You will set-up your bank information, provide applicable tax certificates and schedule withdrawals. You will manage withdrawals from your own Seller Dashboard and all Payouts will be minus our fees associated with selling, Payment Processing and Withdrawal method/frequency.
Start by activating your Ebon Agora Payments account (Ebon Agora Payments is managed by the world's largest and most secure Payment Processor, Stripe):
Head to your Account

page

then

Click Seller Dashboard
Click Settings then Ebon Agora Payments
Click Connect which will take you to a secure registration portal to get you set-up for payments/payouts
In the Connect Portal, you will provide your business/contact information and your bank account information which will be used to create your automatic payouts when sales happen.
Save Changes and click "go back to Ebon Agora".
You must also ensure you have a billing card on file for purposes of recoupment. Please see the Terms of Service /Ebon Agora Payments section for the detailed terms.
What currencies are supported?
Buyers can make payments using most major credit/debit cards, Apple Pay and other option will become available over time. Payments can be made "from" numerous currencies, however, Ebon Agora only settles in US dollars at this time.*
Why do I need to enter tracking information?
Tracking information is required before payouts will be released from your Ebon Agora Payment account for the sale of your listing. The system uses the tracking to determine that an item has been delivered to the buyer and the 48-hour inspection period has expired, before releasing funds. This is an automated process.
How do I enter tracking information?
Again, go to your 

Account

/Seller Dashboard/Orders page
Click on Add Tracking Info
Select the Shipping Provider and enter the Tracking Number
Click Add Tracking
If the item is picked up by the buyer, the date/time of the pick up and the full name of the person doing the pick-up is required.
How do I get my money?
Once you have your Ebon Agora Payment account connected, you can initiate withdrawals anytime once funds are released. This can be done either manually or you can set up automated payout timelines – i.e. bi-weekly, monthly – it's your preference.
Note: your payout funds are accessible by you only… Ebon Agora has no access to sellers' payout accounts. Depending on your specific bank, payouts may take 1-3 business days (longer for international) to appear in your bank account after the withdrawal is initiated.
If a deposit falls on a weekend or holiday, the payout will most likely be sent on the next business day.
First Ebon Agora Payments Sale:  You will receive a notification of your first payout being approved within 5 business days following the delivery of the item according to the tracking information you've provided to Ebon Agora. Following that, it may take your bank an additional 1-3 business days to process that deposit.
After your first Ebon Agora Payments sale: After your first successful sale, your payouts will be initiated 48 hours after the tracking number confirms the item has been delivered via the carrier. Note: Payout times may vary based on existing feedback ratings, sales volume, Preferred Seller status, price of the item, and shipping destination.
 How long does it take to receive my Payout?
Payouts are released by the Ebon Agora Payment System after confirmation the order has been delivered and the Payment hold period has expired, generally, 48 hours after tracking confirms an order has been delivered, the funds are released for Sellers to withdraw. In some cases, this process can be even faster. This depends on how long you've been working with Ebon Agora and the frequency of your sales on the platform.
What if I don't have a bank account?
Your money will simply stay in your Payout Balance until you add a bank account.
Is there any other way to get my money?
No. Payout to your bank account is the only way to withdraw your funds from Ebon Agora.
What if a buyer wants to pay me via another payment system?
Sorry, but a buyer cannot buy through Ebon Agora and pay you directly. This would remove all benefits and protections of selling on Ebon Agora. You should never accept payment outside of our simple and secure Ebon Agora Payments process.
How long will it take after I sell something to get my money in my bank account?
Depending on your specific bank and location, payouts may take anywhere from 1-5 business days to appear in your bank account after being initiated on ebonagora.com. North American sellers will see payouts, generally within 1-3 business days – international is generally 3-5 business days.
Can I use my payout balance to buy items on Ebon Agora.com?
Unfortunately, no. You'll need to withdraw your payout balance to your bank account before spending it on ebonagora.com.
How much does it cost?
It doesn't cost anything to opt-in to Ebon Agora Payments. Sellers are charged fees only when an order is finalized.
*Please note: Ebon Agora Payments has partnered with Stripe for payment processing/payouts. Stripe is a VERY secure and widely used system, worldwide. Ebon Agora payments currently settle in US dollars. International transactions that require payout in a different currency will incur an additional 2% cross-border/foreign exchange fee. 
Frequently Asked Questions
---
Frequently Asked Buyers Questions:
How Customers Pay with Credit Card?
When a customer adds a product to their cart, they will see all the available payment methods. If they select Credit Card Payment, a Modal Dorm will appear. (see picture below)
The form will ask for email, credit card number, expiry date, CVC.
After entering the credentials, click on the Pay button.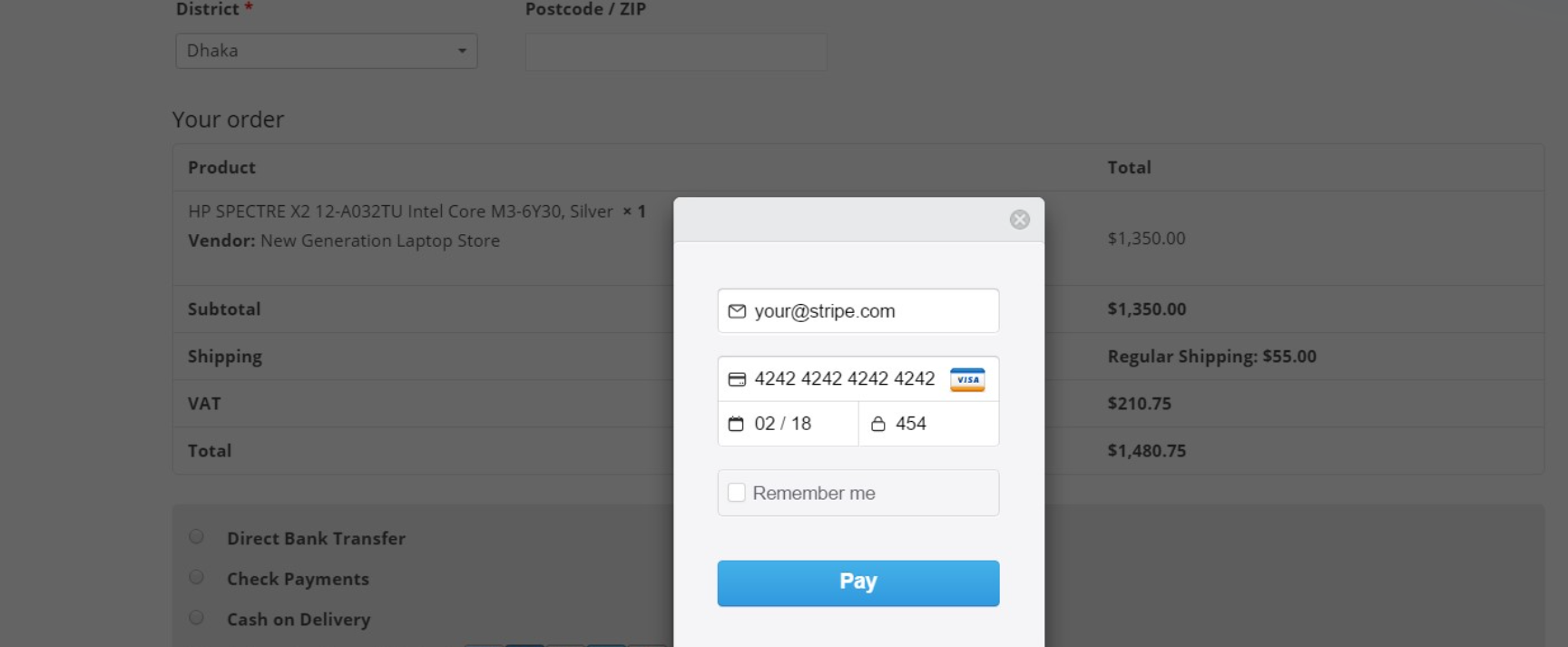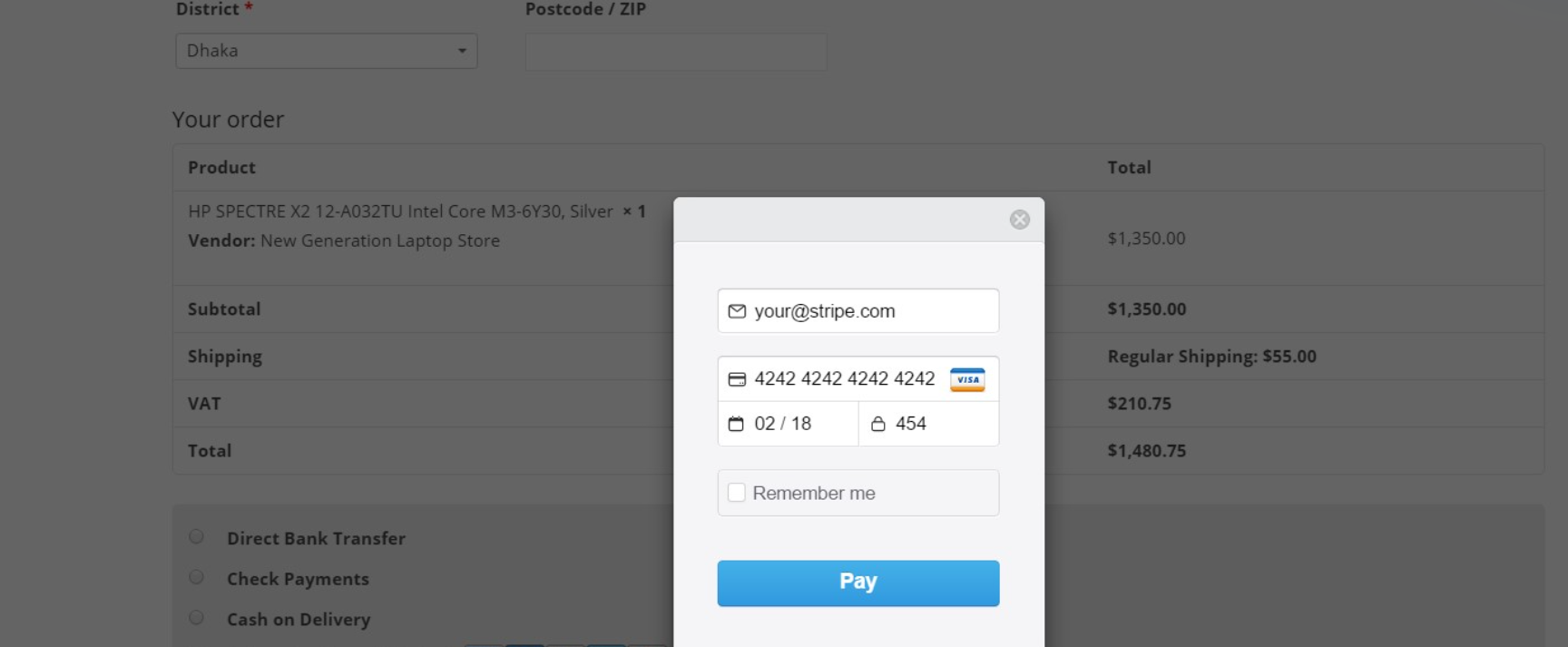 How do I create a good listing?
Price it right
Price is the #1 indicator of how fast your gear will sell, so it's important to do your research and make sure you choose the right asking price when you list it for sale. You will determine how quickly your item will sell by how competitively you have priced it. If your asking price is too high, compared to other listings, you will likely miss out on buyers. By following our easy steps below, you can determine the value of your gear and ensure that you maximize the amount of money you get for it.
Start by answering these questions:
What is the listing price of similar equipment for sale now?
How many others are currently listed?
What is the condition of my gear vs. others for sale?
Using the above easy steps, you should be able to come up with a fair price that will get your gear sold quickly.
Good pictures are better than words
Great pictures help buyers answer many of their own questions about your listing.
Take more than one photo. You can attach numerous pictures to your listing – take as many as you can from different angles, include everything that will be included.
Include a video showing the gear actually working.
Make sure you remove all items (for example, cases) that you are not including as part of the listing price, to avoid any misunderstandings.
Describe your item as accurately as possible
Every piece of gear that's been used has its own history. A detailed description helps buyers make a more informed decision and understand exactly what they will receive. Make sure to be clear about what IS included and what is NOT included, explain the condition, the age, the voltage, specifications, type of use (touring, rentals, installs, etc), and any defects – anything that could affect the value. (DO NOT USE THE MANUFACTURER DESCRIPTION.)
Remember, honesty is key. If you say something is black, and it arrives purple, it will likely be returned to you at your expense. The buyer is making a purchasing decision based on information you provide them. If the item is misrepresented, the buyer has the right to refuse the item at seller's expense for full refund.
What Each Condition Means:
B-Stock – manufacturer listed items that are essentially new, have been returned unused, or are older stock but still retain a manufacturer warranty.
Excellent – items are almost entirely free from blemishes and other visual defects, are fully functional, have either not been used or where only used a few times in a controlled environment.
Very Good items may show a few slight marks or scratches but are fully functional and in overall great shape.
Good Condition items function properly but may exhibit some wear and tear.
Fair Condition gear should function but will show noticeable cosmetic damage or require minor repairs or replacement parts.
Poor Condition gear may not work properly but can could still function with repair and replacement parts.
Manage your listings actively
If a seller no longer has the item available for sale – it might be out on a rental or you sold it to your buddy – it's important to update the listings immediately. If a sale goes through on your listing and you no longer have it, you are still responsible for any fees associated with the transaction.
Check your pricing and quantities regularly. Used gear pricing changes – you want to make sure your listing is still competitive and in a reasonable range of other similar items.
Treat online interactions as if you were talking face-to-face with potential customers
You wouldn't ignore a call from a potential customer or let them wait for hours in your warehouse — to make sure your items sell as quickly and painlessly as possible, it's important that you respond to all inquires promptly and politely.
Is there a cost for me to list my gear?
No. Listings on ebonagora.com® are completely FREE!  Not only do we not charge you to list your gear for sale, we also spend a lot on marketing your item for free!
In the listing process, you will set the selling price for your item. When the item sells, the seller fee and the payment management fees are deducted at that time and the funds are moved into your account immediately.
Is there a limit to the number of listings I can place?
No, absolutely not. We want to become your inventory partner and are here to help you anytime you have items to move. A seller can upload their entire inventory and then "manage" the items using our online tools! For larger inventories, we recommend you sign up for the Ebon Agora Listing API. What this does is link your existing inventory system to your Ebon Agora listings profile, allowing you push items to Ebon Agora by simply toggling an item in your system. It keeps your listings up-to-date and you can easily take them offline anytime you need to, such as when items are out on rental or no longer available.
If you would like more information on how Ebon Agora can help you manage your inventory, please  contacts us or send us an email: support@ebonagora.com
What is the difference between an item listing and a stock item?
Our listings system is based on the backbone Ebon Agora "Stock Item Database". It includes every piece of gear that anyone might offer for sale. Sellers add their Item Listings under that Stock item to make it easier for buyers to research and find what they are looking for. When you visit a stock item, you will see numerous listings under that Stock item with varying price ranges, conditions, etc… making for a unique and simple shopping experience.
What are my obligations as a seller to Ebon Agora?
Below is a shortened version of your obligation as a seller. It is not meant to replace our User Agreement, which is the legal document you sign before listing an item. Please review our complete User Agreement for all the details.
You must own the equipment you are listing, free of any liens.
You must warrant the condition on the equipment you are listing by selecting the appropriate condition and writing an appropriate item description.
ALL listings on Ebon Agora.com are required to provide a minimum 48 hour warranty, from time of delivery for inspection.
It is the sellers obligation to resolve any issues the customer may have with the item as long as it is reported within the warranty period. The seller is responsible for the freight cost of returns, replacements, parts or repairs.
Sellers are responsible for packing items properly for shipment. Palletizing is recommended as the safest method for ensure the least amount of potential freight damage. All large items packed in road-cases with wheels must be palletized to avoid freight damage.
If you are selling large ticket items, photograph the items individually and after they are palletized, before they leave your warehouse.
Freight claims are rare but they do happen. Ship your items fully insured. Ebon Agora does not assume any financial obligation for freight claims but will work with you and the buyer to get any issues resolved.
Once tracking confirms the item is delivered and the 48 hour inspection period expires, Ebon Agora will release all payouts for withdrawal. For more information on the Payment Management system and Payouts, visit Ebon Agora.
---